After my many visits to Mitsuwa & Marukai, I finally decided to purchase the K-Palette 1 Day Tattoo Eyeliner. I would have never considered purchasing this eyeliner since I've stayed faithful to my holy grail Blacktrack fluidline for the past 2 years. But I must say that I LOVE this liquid eyeliner!
Last night was my cousins 21st birthday party so I thought that it would be a perfect time to really test out the quality of this eyeliner.
This product is
designed to stay smudge-proof and tear-resistant throughout busy days and nights, this cutting edge formula applies smoothly and dries quickly
. [thanks
Miss Kim Tia
for the info]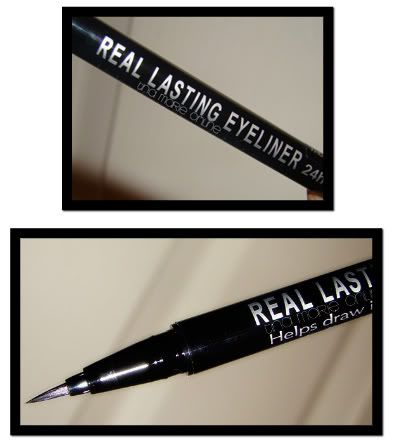 WHERE TO FIND IT:
at your nearest Mitsuwa Marketplace or Marukai Market,
Ohayo.com
PRICE:
$15-$16
VALUE FOR PRICE:
4 out of 5
MEETS EXPECTATIONS:
5 out of 5
OVERALL RATING:
5 out of 5
PROS:

→
It really does last for hours.
→
It is smudge-proof.
→
brush-tip allows easy application for thin & thick lines.
→
Easy to remove with make-up remover even though it's waterproof.
CONS:
→
It can be pricey for some but in many ways, it's worth it.
OVERALL:

→
I applied this eyeliner ONLY on my upper lashline around 3pm. I went out all day and all night and I came home around 1am. I must say that the lasting power with this eyeliner stays true to its name. It really does last for hours & hours!
Keep in mind, I was partying my ass off and I was drunk
. xP haha!
→
This is definitely my
Holy Grail
eyeliner when it comes to liquid and I don't think I'll ever switch back to another liquid liner for a while. As you can see in the
picture below
, the eyeliner has not budged at all. Except for a teeny tiny bit of fading on the "wing" I honestly can't tell any significant difference in the before & after looks. I swear this eyeliner is amazing!
[don't pay much attention to the eyeliner on the lower waterline,
you can obviously tell I have not found a HG pencil liner that actually stays!]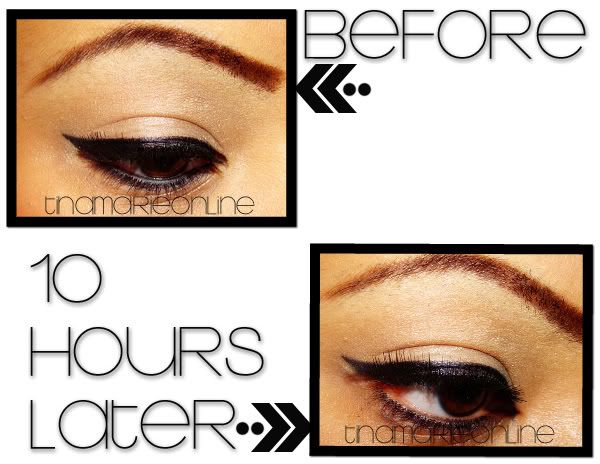 DISCLAIMER: The products reviewed on this blog are based on the opinions and experiences of the author. This product was purchased by the author and in no way was this review influenced by the company of the product.