Before anything else, I love how you ladies say
Bamboozle
because me and my boyfriend totally made that up when he first bought it for me. It sure is a lot more fun than just saying bamboo. Haha.
BAMBOOZLE!!
Hehehe.
Anyway, so I did a FOTD and instead of uploading pictures like normal, I decided to fix it up a bit. Can you guys tell I'm hella diggin my Bamboozle? Anyway before I post the FOTD I just wanted to answer a few more questions that many of you have asked.
1. How much did you get your Bamboo Fun?
- My Boyfriend, Victor, bought it for me for $100.
2. Is it hard to use?
- Not to me. It takes a little getting used to especially if you're so used to using a mouse.
3. How does it hook up to your laptop/computer?
- Through a USB port
4. What's the name of the program?
- What program? You mean how I edit pictures? It's called Photoshop Elements
5. It comes with photoshop?
- Yes indeed.
6. Do you have to download the brushes?
- No. Photoshop comes with its default brushes but I do download them. [I forgot what websites]
7. What's the difference between a Wacom & a Bamboo?
- Bamboo is a new category of tablets from Wacom. So it's the same thing just different model.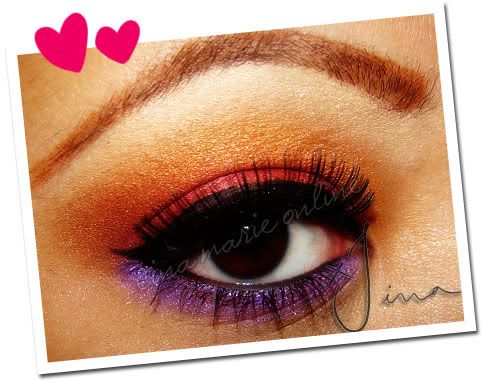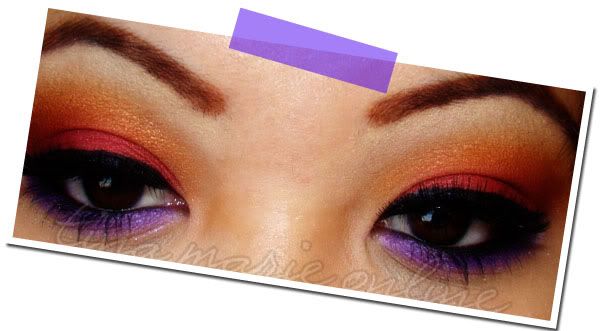 WHAT I USED:

eyes:
Bare Study p/p all over lid as primary base
MAC Flammable Paint all over lid
MAC Mi'Lady e/s LE [red] all over lid
MAC Fab & Flashy e/s LE above crease
Estee Lauder Berry Ice e/s on outer corner
MAC Mi'Lady e/s LE [purple] on lower lashline
MAC Intense Purple e/s LE on lower lashline
Some color to highlight [I forgot!]
MAC Brown Down e/s to fill in eyebrows
Revlon Colorstay Liquid Eyeliner on upper lashline
Maybelline Exper Eyes eyeliner in Velvet Black on waterline
L'Oreal Telescopic Mascara
Ardell Lashes in Demi 101
face:
Noevir Replenishing Moisturizer #99
MAC Studio Finish concealer
Fresh Minerals powder foundation in Light
MAC Ambering Rose blush
MAC Iridescent Pressed Powder in Delicacy to highlight

lips:
I forgot!