I love love loooove Forest Green pigment [LE]. It's one of my favorite pigments & one of my favorite green colors. It's a little hard to work with because a little goes a very long way. And since this color is so bold & dramatic, I purposely neglect it. But I chose to bring it out before it collected more dust than was needed. And after doing this look, I was just reminded how much I love this color.
I'm not sure if this pigment is LE because I saw a full size jar somewhere online. It might be a PRO color. I'm not sure. Do any of you ladies know? Or if there's an eyeshadow similar to this color. Let me know!

Anyway, I fell in love with this pigment when it came out with the Curiositease collection last November. I remember this MAC MUA had it on with some plum color eyeshadow and I always wanted to try to pull off the look. And again, I failed. Lol.

Oh well. Here goes my attempt. Not as great as hers. I wish I had a visual in my head but it was so long ago, I don't remember how it looks anymore.



I did these swatches when the collection first came out
& when I was still using xanga. lol.
The green doesn't look blended in this picture.
But it's actually the flash from the camera.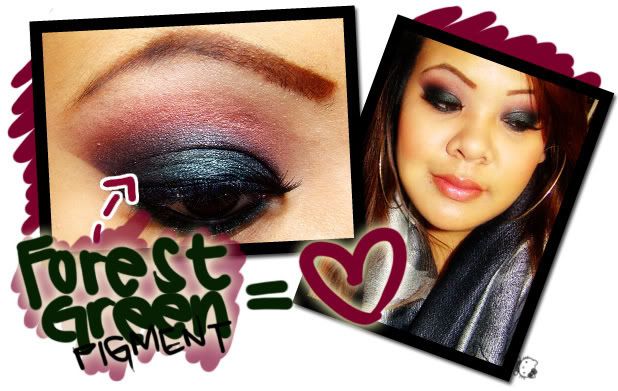 EYES:
UDPP as a base
NYX White e/s all over lid & brow bone
NYX Jumbo e/s Pensil in Black Bean all over lid
MAC Carbon e/s all over lid
MAC Plum Dressing e/s above crease
MAC Passionate e/s blended w/ Plum Dressing
MAC Forest Green pigment all over lid [applied wet] & lower lashline
Maybelline Expert Eyes eyeliner in Velvet Black on waterline
MAC Brown Down e/s to fill in eyebrows
Ardell Lashes #?

FACE:
Noevir Replenishing Moisturizer #99
MAC Studio Fix FluidMAC Studio Finish concealer
MAC Ambering Rose blush
MAC Fix+

LIPS:
I forgot! sorry.